Weaver Nut Company is excited to announce their exhibition at the SIAL China Innovate Food Business Exhibition held this year from May 17-19 in Shanghai. SIAL China is Asia's largest food innovation exhibition boasting 2,942 exhibitors from 67 countries and more than 80,000 visitors. Each year, the annual event allows visitors and exhibitors to find new suppliers, discover the latest market trends, and uncover the hottest innovative products. This year, the exhibition was held in the new International Expo Centre in Shanghai.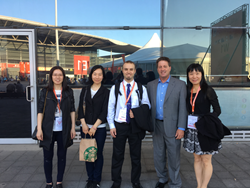 (Weaver Nut team outside the International Expo Centre)
At this year's SIAL China Exhibition, Weaver Nut was a featured exhibitor in the USA Pavilion among the Sweets and Snacks providers – the perfect venue to highlight their exceptional offerings of delicious dried fruits and nuts. On May 16, the Weaver Nut team unloaded cases bursting with samples for the visitors who would arrive in the days ahead.
As the exhibition began, the Weaver Nut team greeted visitors from around the world, with the bulk of potential new customers from Shanghai, Shenzhen, and Hong Kong. A favorite among the visitors was the Weaver Gourmet Mixed Nuts – a delicious blend of peanuts, almonds, cashews, and pecans. This show, unlike others, was bustling with visitors all three days and the team from Weaver Nut found themselves busily meeting, greeting, and sharing samples and information about the company – even on the traditionally slow last day!
"We were excited at the many customers interested in our delicious premium quality products. Our gourmet mixed nuts were the hit of our exhibition. Most customers were from the Shanghai, Shenzhen, and Hong Kong areas of China. These three cities alone have a combined population of around 50 million... that's a lot of nuts and dried fruits! On our return to Pennsylvania, we have had many customers follow-up for quotations and samples and we hope to build on this momentum and continue growing our export business." – Edward Weaver, COO Weaver Nut Company, Inc.